Lyrics and Song: I've been writing lyrics for years and often thought how fortunate I am to work with music so deserving of greater recognition. Both vocalists and instrumentalists can now find my collaborations here as PDF Lead Sheets and Arrangements.
(Go directly to the Shop for current charts. Subscribe to be notified when new works are added.)
Background: I started singing early in school and church choirs, and as a teen, I added folk music, show tunes from my sisters' cast recordings, and listened to late-night radio programs featuring iconic singers like Ella, Sarah, Lady Day, Sinatra, Tony Bennett, and Johnny Mathis. They schooled me in the art of singing, and in the Great American Songbooks.
Education: By college, I was singing blues, soul, rock, classical, popular, and new music. Postgraduate, in one of the time's few world music programs, I was immersed in many musical traditions, including Latin and African roots of jazz.  But during undergraduate work-study in New York City, I was assistant to the director of Brooklyn's MUSE Jazz Workshops' Bill Barron, a composer, multi-instrumentalist, and arranger. The influence of the city and the musicians from that time never left me. I was especially drawn to the originals of the contemporary jazz musicians around me and wanted to add their works to my book, with my instrument and began to write lyrics. The originals have remained an integral part of my own repertoire for JJJazz ensembles.
Released Works:  One of my earliest lyrics, to Kenny Barron's "Sunshower," had its first release by Jay Clayton recording with Unity. (Discography)  Over time, the vocal version of "Sunshower" took an expansive road trip of its own. Years later, I heard it sung by John Ronstadt in a Tucson restaurant. Wendy Fopeano in Denver and Jane Irving in Australia included it in their CDs. Other early recordings of my lyrics include Sunny Wilkinson's  "You Could Have Told Me" (Judd Miller/Jarrett), Diane Schuur's take on "Zaius" (Eddie Russ/Jarrett), also released by Geri Brown in her CD by the same name. Geri Brown also recorded a lovely version of "Jean." (Eddie Russ/Jarrett) In 2000 Jay Clayton recorded "I Told You So," (Cables/Jarrett) with composer George Cables at the piano.
From Pittsburgh to Paris, singers have sought Jarrett's lyrics to sing.
For my CD "Blue Nights and Sunshower," I  arranged seven collaborations: "Belem," "Dolores St., S.F.," and "Sunshower" by Kenny Barron, and "I Told You So," "Love Song," "Think on Me," and "Blue Nights," by George Cables. (Click here to buy CD.) Scores of my arrangements, including some for five parts, I created for Borrowed Time, like Kenny Barron's "Dolores St., S.F.,"  will be available in the Shop soon.
Notable NYC Performances: In March 2009, NYC's Lincoln Center "Words and Music" series featured eminent pianist and composer Kenny Barron. The performance included my lyrics from the collaborations released on Barron's  "The Traveler" CD with three outstanding singers:  Anne Hampton Calloway ("Clouds"),  Gretchen Parlato ("Phantoms"), and Grady Tate ("Um Beijo").  George Cables in a later "Words and Music" performance included "Think On Me" (Cables/Jarrett) from his release, "The George Cables Songbook"  with singer Sarah Elizabeth Charles. (Discography)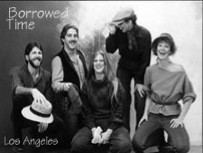 The majority of the repertoire for the five voice jazz group I led in Los Angeles, Borrowed Time, were my arrangements and lyrics,  including works by Kenny Barron, George Cables, Freddie Hubbard, Eddie Russ, Judd Miller, and Moacir Santos. Sometimes, like "Blue Nights" by Cables, Barron's "Illusion,"  Hubbard's "Skydive," and  Moacir Santos's "Kathy" and "Jequie," composers brought compositions to Jarrett for lyrics. I continue to write lyrics when I can, and some composers have permitted me to write for multiple songs. I remain grateful.