MUSIC, FOOD, CULTURE
Music Publications     After a few guest articles in small publications, my freelance journalism grew to over 60 pieces, including artists' profiles, and CD and live music reviews for "The Arizona Star," "The Tucson Weekly," and "The Phoenix New Times."  For a time I also covered the music events column in Tucson's monthly "The Desert Leaf."
Profiles/Reviews    Artists ranged in musical genres, and from regional to international, including Australia's Dancers of the Dreaming, the Mario Bauza Band, George Duke, Billy Taylor with David Parsons, Fred Hersch,  Rhino's John Coltrane Boxed Set, Mark O'Connor, Brecker Brothers, Ramsey Lewis,  Yellowjackets, Charles Lloyd, Ahmad Jamal, Hilton Ruiz, Homero Ceron, Poncho Sanchez, Nando Lauria, Slide Hampton, R. Carlos Nakai, Dmitri Matheny, Will Clipman, Marion McPartland, Lisa Otey, Mary Redhouse, Steve Reich, Joe Williams, Marion McPartland, Joe Williams, and George Shearing.
Presentations   I was a frequent guest speaker for the University of Arizona's Arts Encounters preceding concerts at Centennial Hall, and for a variety of academic classes and extended university courses. Under the sponsorship of the non-profit Arizona Humanities Council, I've been able to explore a number of music-related topics as one of their scholars in the "Arizona Speaks" program. My favorite part of my decade of AHC talks around the state has been engaging with the audiences in the Q and A's that follow each presentation. Below is a partial list of talks.
"Your talk last week was about the most interesting information about music and the human experience anyone could pack into just 40 minutes. Totally terrific and helpful for what I will be doing at the hospital."
Jeffrey S.  (AHC Music and Healing)

"Thank you for your presentation on "The World Sings." The reports from the audience were glowing – they thought you were well-informed, very interesting and wanted to hear more."  Alicia M., Institute for Retired Professionals.
My talk for the AHC season of 2021-2022 is  The Science of Music: The Music of Science:
Why would so many physicists compare the universe to an orchestra? Why did Einstein play his violin for inspiration and to enhance his contemplation of the cosmos? Learn about the inherent connection of music and science from Pythagoras to current astrophysicists.
(Click here for the Science and Music pdf)
This timely talk is available for in-person or remote, either through the Arizona Humanities Council for an event within the state open to the public. Contact me directly to schedule the talk for your organization or community.
"Thank you so much for your wonderful presentation. Our participants truly enjoyed it and were both educated and entertained. The topic, subject matter and visuals were most interesting. We hope to see you again for another presentation soon."
JFCS Center for Senior Enrichment, March 2020"Dr. Jarrett is an engaging speaker with fascinating insight into the near-mystical links between music and science. What she has to share will change the way you experience  music." 
Steven, Phoenix Library Administrator

Jazz and the American Identity  The history of jazz is a window on the American journey to independence, and its influence and interaction with our national identification with freedom, innovation, and most importantly, democracy.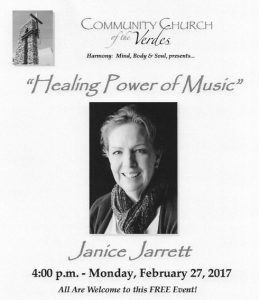 The Healing Art: How Does Music Soothe the Soul?  Even in antiquity, pitches, scales, and melodies were associated with times of day, moods, colors, and especially healing. Music therapy continues to uncover new therapies for healing through music.
Music and the Brain: Can Music Make You Smarter?    The provocative power of music has been acknowledged for millennia. Learn why modern neuroscientists keep affirming the positive effects of music on well-being and cognition.
Steal from the Best: Music's Inherent Internationalism  Music, like other arts, meanders across the artificial borders of race, politics, and culture on its own accord. What can we learn from the cultural mavericks who manifest music's inherent universality and acquisitiveness?
How We Learn: Music as a Metaphor     Music is like a language for more than its grammar-like rules, logical structures, layers of relationships, and potential for the manipulation of its elements for self-expression and creativity. It can be as daunting as attaining fluency in a foreign language. Turns out, the process of learning music is a rich metaphor for any other learning challenge!
Click here for pdf of Talks by Dr. Jarrett.   Contact me directly for my availability to do a presentation for your group or community.
FOOD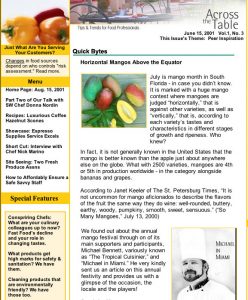 Experience    I've always enjoyed cooking and baking. Over the years, music afforded me opportunities to savor a variety of cuisines while traveling or performing in fine restaurants, And what a privilege to be wined and dined on tours in the U.S and abroad. I won't forget dining in Vitoria-Gasteiz at "The Great Door," an ancient restaurant originally made to house whole carriages or the chef who made a special multi-course meal for Steve Reich's whole ensemble after our concert on the west coast of France.
Food Journalism     After relocating to Tucson, I organized a cooking class or two and started writing a few restaurant reviews for local publications. Later, as Senior Web Editor for  "Across the Table," a monthly online magazine for food professionals, I wrote regular features on restaurant trends, industry news, and new products. When Tucson recently became a gastronomic star, I wasn't surprised.  My reviews included books by Michael Pollan, Anthony Bourdain, and Jamie Oliver.  Using my research experience, I also covered issues such as GMOs, the Slow Food movement, and the rise of farmer's markets and local food sourcing.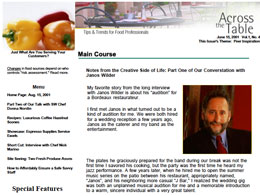 Local Food Stars    For chef interviews, I first chose James Beard award winner, Tucson's Janos Wilder, and esteemed restaurateur Donna Nordin. I first met Janos catering for a private party that also hired my band, JJJazz. Later, I was one of the performers featured in his summer music series 'On the Terrace,' playing with the backdrop of a starry Tucson night.
A few years after that, Janos and I were on TV together for the local PBS station's cookbook fundraiser "KUAT Cooks." Janos was the celebrity host while I demonstrated my Almendrado Apple Tart that won a spot in the cookbook.
ACADEMIC BACKGROUND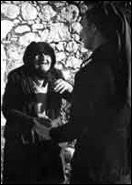 My Masters Thesis, "Feminine Symbolism and Music," led me to my Dissertation on the Greek Lamenting tradition that stretches back from pre-literate times to the 20th century in rural Greece. I lived and conducted field research on the moiroloyistras for close to a year in Greece, dividing my time between Mani, Athens, and Crete.  (For more on my educational background, please visit About JJ.)
Visit "Noteworthy," my blog on this site for a range of short pieces, including excerpts from my forthcoming book "Healthy Techniques for Relaxed Singing." Sign up to receive notifications of new posts on the Contacts page or at the bottom of my home page.