WORKSHOPS at Vocal technique Studio
Online versions and small in-person sessions for the vaccinated can be arranged. In addition to the workshops below are Writing Effective Lyrics, Advanced Rehearsal Techniques, Creating Vocal Harmony, and Piano or Guitar for Singers. Please note: any of these can also be taught one on one. Ask about a subject or study area that interests you. Print the Workshops PDF:

For more on private sessions.
Free Your Voice and Sing
This workshop is for both beginning and experienced singers and is applicable to virtually any genre. Its focus is on the voice as an instrument. Knowing the basics of how your voice works, as well as what prevents your singing freely, allows you to find your personal, unique "voice."  And learning how professionals prepare and warm up their voices can open up whole new vocal experiences, boosting your confidence and joy in singing.
"You had nothing but glowing reviews [from your workshop for our group]. Your ability to give individual attention to each singer was appreciated. And we all were impressed by the breadth and depth of the knowledge you shared. What a wonderful gift you were!"
Jennie B, Choral Group
Jazz Singing
"Jazz vocal workshops with Janice have been a delightful experience! She is kind and attentive with every student, and she knows how to help you find your voice. "Courtney Viall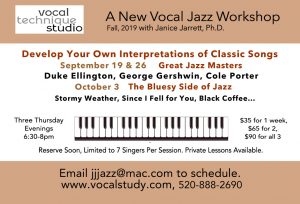 Vocal Jazz 101  Interpreting Great Jazz Masters: Gershwin, Ellington, and Porter, Uncovering Meaning & Style.
Vocal Jazz 102   Crossover Jazz/Popular Singalong,  The Bluesy Side of Jazz.
Vocal Jazz 103  From Interpretation to Improvisation: The Art of Phrasing.
Listening and appreciating so many of the wonderful gems in the vocal jazz library is great, but singing them is so much more fun. From ballads to swing, from bossas to blues, we sing a number of legacy works and try improvisatory exercises. Future workshops will include a focus on solo leads and working with accompaniment.
Music Theory/Notation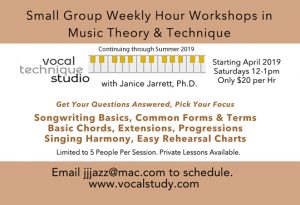 When asked to teach an accelerated university summer music theory class, I discovered it was a repeat for two students. They said their previous class just confused them. Having been a young music student balancing jazz and world music with traditional pedagogy, I sympathized. Rather than the common academic approach stressing the memorization of complicated interwoven systems, my method is guided by the idea of "applied" learning.  It worked well, even in the group setting, and even stimulated students to further self-directed studies.
After recognizing a need for locally accessible, informal, music theory across genres, I began a series of Saturday noon low-cost, small group Music Theory sessions at VTS. With the goal of Demystifying Music Theory (Getting your questions answered when you need them!). Areas covered include Scales, Keys, Chord Basics and Advanced, Progressions, Reading Rhythm, Working Harmony, Arranging Your Songs for Impact and Effectiveness, and Preserving Your Music: Notation Made Easy.
"The workshop has helped me understand music more in depth, which in turn made me a better musician. I love what this class helps me to create musically."  Lynette M.

"I have had lots of fun filling the gaps in my music theory knowledge in this fast-paced class."   Matt B
Access a free PDF for more information on VTS Music Theory
Songwriting Workshop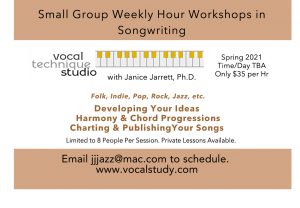 All artists study and model the work of those that inspire them: their forms, their messages, their motifs, etc.  Then they uncover their own "voice" by opening up their imagination and documenting the flow of fragments, kernels, and thoughts that can then be developed into songs. The elements of your storytelling style can be maintained in a notebook of ideas to mine. Then make the most of your work with strong presentations, background harmonies, riffs, and effective instrumentation.
Piano for Singers Workshop
Accompany yours singing by learning the building blocks used for most popular genres. The course includes deciphering chords and voicings, comping vs. sight-reading, analyzing song forms and repetition schemes, rhythmic options, left-hand independence, and developing dynamics. Either as private lessons or a group workshop, this is a good primer for developing arrangements for your book of songs and originals.
For a more detailed resume please visit the Academic Bio page.
Access a PDF of these Brief Credentials.
BRIEF CREDENTIALS
Ph.D. Ethnomusicology, M.A. World Music, Wesleyan University, CT
B. A. Music, Voice & Composition, Antioch College, OH
Teaching & Performing
During my undergraduate, graduate studies, and as a professor, I performed and produced concerts, workshops with visiting artists, and small festivals. While pursuing graduate degrees, I performed in a variety of states and in international tours with composer Steve Reich's ensemble. While a professor in Michigan, my students and I performed in concerts, organized small festivals, and played in local venues. Over time I was an instructor from grade school to university level, from a variety of educational institutions to community arts programs, to my studio.
My 5-voice vocal jazz group in Los Angeles. "Borrowed Time" grew to be one of the most respected Vocal Jazz groups in LA for over 10 years. I wrote the bulk of Borrowed Time's lyrics and arrangements of songs by outstanding composers. I perform occasionally in my own ensembles as "JJJazz," in duos to larger groups in Tucson, where the studio is based.  (For a fuller bio go to About Janice.)
Memberships Include
National Association of Teachers of Singing (NATS), Jazz Journalist Association., AFM Local 33, Jazz Education Network, National Museum of Women in the Arts